Scotch Whisky's Protection Extended in China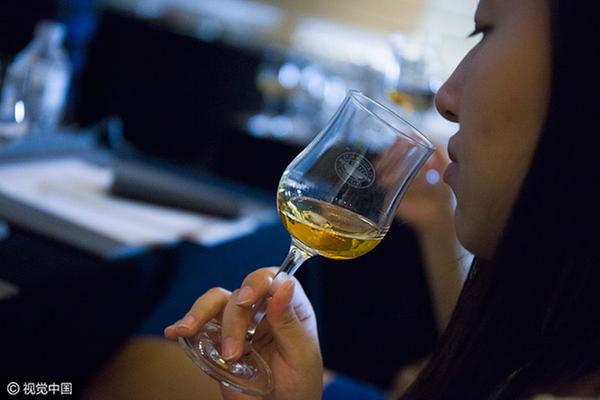 A woman tastes whisky at a hotel in Beijing
Scotch whisky will be protected under law in China for a further decade, following the renewal of its trademark, which was done during the visit to China of Prime Minister Theresa May.
The protection means that any bottle of spirit sold in China labeled "Scotch whisky", or bearing a Chinese translation with the same meaning, must have been produced in Scotland using methods distillers have perfected over hundreds of years.
The move is a renewal of trademark protections set up in 2008 to crack down on locally produced spirits in China that are falsely described as "Scotch".
Karen Betts, chief executive of the Scotch Whisky Association, helped secure the renewal while accompanying the prime minister on a three-day trade visit to China.
Betts said the renewal is an important step in securing future growth for the drink in "the world's largest spirits market".
The association says it has investigated around 200 brands of fake Scotch in China since 2008, in addition to more than 100 trademarks featuring Scottish words and images.
"While challenges remain, Scotch whisky producers can be confident that the Chinese government officially recognizes Scotch whisky as a Scottish product, produced according to traditional methods, that should be given special recognition in the Chinese market," Betts said.
Whisky has become increasingly popular in China as a growing urban population and middle class develops a taste for fine spirits.
British beverage company Diageo says more than 100 whisky bars opened in China in 2016. And, in the first half 2017, Scotch exports to China increased by 45 percent year-on-year, to reach 27 million pounds.
The Scotch Whisky Association is made up of 69 distilleries that produce more than 300 brands of Scotch whisky. Several of its members export to China.
The first record of distilling in Scotland dates to a tax record from 1494, when a Scottish monk placed an order for enough barley to make 1,500 bottles of spirit, indicating the distillery was well established.
Various attempts have been made throughout the centuries to protect Scottish distillers under law. Most recently, the UK government set up regulations in 1988, and again in 2009, stipulating that whisky labeled as "Scotch" must be distilled in Scotland from water and malted barley, to which other grains may be added.
Scotch must be matured in Scotland, in oak casks, for no less than three years. "Single malt" Scotch whisky must be made at the same distillery, using only malted barley. Other varieties, including "single grain", "blended malt", "blended grain", and "blended Scotch", are achieved with the addition of certain grains and cereals or by mixing Scotch whiskies together.
By Angus McNeice in London
Source: China daily