Jiading Holds Intellectual Property-focused Conference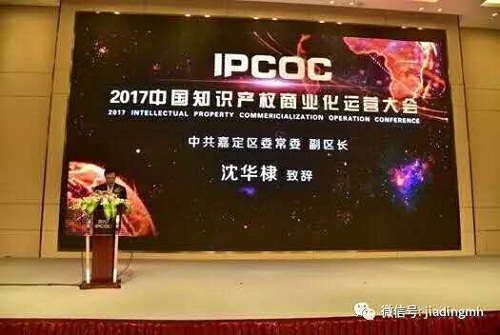 The 2017 Intellectual Property Commercialization Operation Conference takes place in Juyuan New Area, Shanghai's Jiading district, on June 16. [Photo/WeChat account: jiadingmh]
More than 300 intellectual property rights experts gathered in Juyuan New Area in Shanghai's Jiading district on June 16 to attend the 2017 Intellectual Property Commercialization Operation Conference.

The conference was designed to bring together the world's top minds to discuss ways to promote intellectual property operation in China.
Shen Huadi, deputy head of Jiading, said that holding such a conference will provide a significant boost to Jiading's core competitiveness.
According to Shen, patent application and authorization in Jiading has risen 30 percent and 9.7 percent year-on-year respectively, making Jiading the third most active district in Shanghai in terms of IPR in 2016.
The increase in the number and quality of intellectual property rights held by companies in Jiading has led the district to seek to better integrate its intellectual property resources with its industrial innovation and economic development strategy, and look for ways to promote independent innovation in the district.
This will help Jiading advance its supply-side reform and upgrade its industries.
The conference was organized by Juyuan New Area, which is home to five national research institutes and over 10,000 enterprises. Juyuan is attempting to use its resources to promote cooperation between research institutes and local government, improve tech services, and create a better environment for entrepreneurship and innovation.
The area has united more than 200 professional institutions to form an entrepreneurship service alliance. It has also set up one national and two municipal-level incubators for tech companies, an academician service center and a variety of fintech platforms.
A research report on patent trade operation in China in 2016 was released during the conference, and an awards ceremony was held to honor the top 10 patent operation institutions affiliated to Chinese universities and the top 10 Chinese patent operation companies in 2016.
Source: China Daily